User Account Registration Information
20 May 2021

1 Minute to read

Contributors
User Account Registration Information
Updated on 20 May 2021

1 Minute to read

Contributors
---
Prior to start using the EdgeReady Cloud, each user must have a valid 'User Account'. A user must get the account information from their System Administrators along with the URL before first log-in.
In order to create applications, a user needs to have a registered account in the platform that is offered by Pillir. Once an account is created, users can log-in using the credentials provided.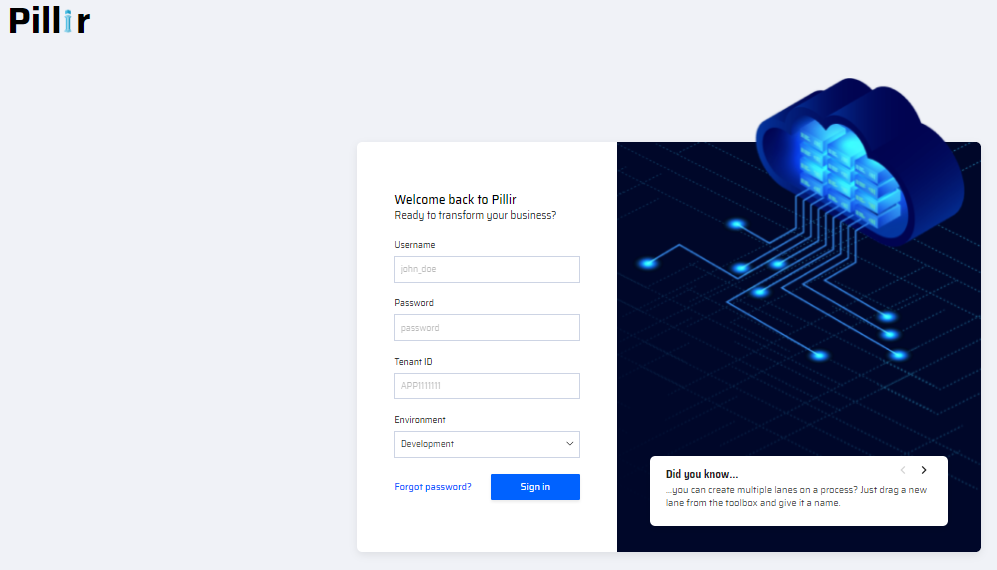 'Username' - Unique user Id given for every user at the time of registration.
'Password' - A temporary password for the first log-in. Password change is prompted for first time users.
'Tenant ID' - Unique client system identifier assigned to each Tenant.
'Environment' - such as Development, Quality, or Production.
What are the user roles that can access the Platform?
The platform is exclusively customized for the user roles namely, Developer, Business Analyst, or Admin. It provides a unified coding experience to all three roles.
What is the objective of having 3 different environments?
Development and Quality environment is meant for developers whose aim is to create, test, and maintain applications.
The Production environment is meant for deployment and roll-out. It holds the 'Live' apps and data. Only tested and approved apps are supposed to be 'Transported' to this environment and deployed to user's devices from this environment. This environment is accessed by the 'End-Users' through their devices.
The user logs into the environment that is relevant to them. The Landing page/Dashboard appears differently with respect to Environment of the user.
Significance of Tenant ID in the EdgeReady Cloud
The Tenant ID is a unique identifier that is assigned to each customer and designates an independent and secure space in the platform. The combination of the User ID and Tenant creates a unique identifier within the Platform.
A valid tenant ID is required at the time of sign-in. It is system generated and cannot be changed.
---
Was this article helpful?
---
What's Next